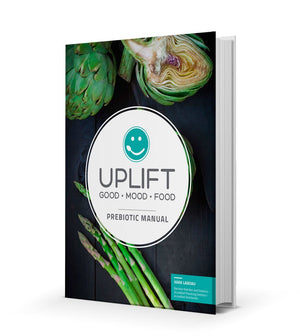 About the Book:
Are you looking to truly understand in detail the role gut health plays in mood regulation? As well as increase your knowledge on the different effects specific prebiotic fibres and resistant starches have on your gut health and overall wellbeing? Are you ready to take your gut health to a new level of strength, but don't actually know which foods are the best options to make this happen?
We've got you covered!
The Uplift Food – Prebiotic Manual is the specialist and in-depth gut health manual written by prebiotic expert dietitian, Kara Landau. Strategically refined into 35 beautifully designed and information packed pages, you will be provided with the factual and usable content you need on this topic, without any fluff.
Having already laid the foundations in your readings of the Uplift Food – Good Mood Food Guide; 
You will start by having your prebiotic foundation laid by learning about the different types of prebiotic fibres, how they specifically influence gut health, as well as which foods are the richest sources of these specific types of prebiotics.
As we move through to resistant starches, and the significant role they play in strengthening your gut, you will gain confidence in your own understanding of how to create a gut strengthening daily meal plan so that you can immediately put into practice all of your new learnings.
By the completion of reading this e-book you will no doubt feel like a gut health expert yourself, eluding confidence in your ability to select the best foods possible to support a superiorly strong gut, and ultimately leave you feeling uplifted!
The difference between this book and the Gold Package: Uplift Food – E-books + Food Product Bundle
This e-book does not include the Good Mood Food Guide, 5 X 7 Day Good Mood Food Menus + Recipes, Recommended Products List or a 425g Pack of Uplift Food – Daily Uplifter (Protein). Instead, it provides you with an in-depth array of knowledge on the topic of prebiotic fibres, resistant starches, and the connection between gut health and mood.
 If you are looking for a fuller overview on the connection between dietary choices and mood regulation, together with this comprehensive guide, on prebiotics, resistant starches, and how to significantly improve your gut health in order to support a good mood, head over to see our Silver* Pack: Uplift Food – Good Mood Food Guide + Prebiotic Manual (Bundle).  
Or if you want the full Good Mood Food electronic bundle, including our Good Mood Food Guide, Prebiotic Manual, 5 x 7 Day Good Mood Food Menus + Recipes, Recommended Products List, plus  a full 14 day supply of delicious gut healthy Uplift Food – Daily Uplifter - Head over to our Gold Package: E-books + Food Product Bundle.
 What Kara says:
 "This book will leave you feeling like an absolute prebiotic gut health expert!
It provides vital in-depth insights into the different types of prebiotics and resistant starches, and offers you the practical information and tools you need to be able to go away and implement all your learnings as soon as you finish reading.
Ultimately, the Prebiotic Manual supports you living a healthier, stronger, and happier life."
Close (esc)
Join the Uplifters!
Gain access to exclusive gut health expert dietitian tips, delicious prebiotic recipes, and Uplift Food product specials...Don't you want to finally feel like "you've totally got this"? 
Uplift Foods Daily Uplifter
Age verification
By clicking enter you are verifying that you are old enough to consume alcohol.