Silver: Recommended Products List - USA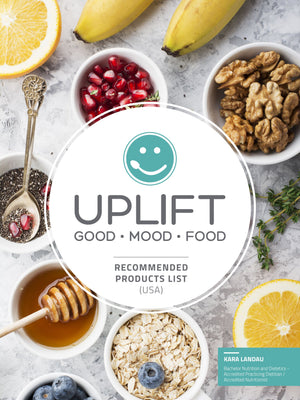 Silver: Recommended Products List - USA
The Uplift Food - Recommended Products List - USA has specifically been created to assist those living in the USA transition into a gut healthier eating plan. 
Providing suggestions on specific products that will help you achieve the dietary goals recommended within the Good Mood Food Guide and the Prebiotic Manual, you will find that the Recommended Products List will provide you with a highly practical tool that makes incorporating prebiotic and resistant starch rich foods into your diet seamless.
Inside you can expect to find product suggestions for:
Prebiotic Breads, Cereals and Staples
Resistant Starch and Prebiotic Fiber Pasta and Noodles
Snack Foods: Probiotic Nuts and Seeds
Snack Foods: Fermented Snacks
Snack Foods: Prebiotic Tiger Nut Based Products
Snack Foods: Prebiotic Baked Goods and Crackers
Snack Foods: Probiotic and Prebiotic Health Bars
Snack Foods: Probiotic and Prebiotic Fruit or Vegetable Chips
Snack Foods: Probiotic and Prebiotic Spreads
Probiotic and Prebiotic Baking Mixes
Prebiotic Supplements and Cooking Additions
Resistant Starch Supplement Powders
Probiotic Dairy Foods
Probiotic Non-Dairy Yogurts
Probiotic Beverages
Probiotic Powders
Probiotic Make at Home Kits
 So what are you waiting for?
 These gut healthy products are easily attainable in store or online in the USA - We are just here to help you find them!  
Close (esc)
Join the Uplifters!
Gain access to exclusive gut health expert dietitian tips, delicious prebiotic recipes, and Uplift Food product specials...Don't you want to finally feel like "you've totally got this"? 
Uplift Foods Daily Uplifter
Age verification
By clicking enter you are verifying that you are old enough to consume alcohol.